Maui Magazine features another of my interior designs
Decoist highlights one of my interior designs featuring home offices in black.
---
Honored that Maui Magazine featured the interior design of my home in the November 2019 issue.
---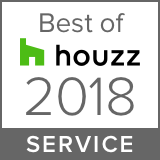 Tim Tattersall Design of Maui, Hawaii
Awarded Best Of Houzz 2018
Over 40 Million Monthly Unique Users Nominated Best Home Building,
Remodeling and Design Professionals in North America and Around the World
Maui, Hawaii, January 18, 2018 – Tim Tattersall Design of Maui has won "Best Of Customer Service" on Houzz®, the leading platform for home remodeling and design. The Maui-based Interior Design Firm was chosen by the more than 40 million monthly unique users that comprise the Houzz community from among more than one million active home building, remodeling and design industry professionals.
The Best Of Houzz is awarded annually in three categories: Design, Customer Service and Photography. Design award winners' work was the most popular among the more than 40 million monthly users on Houzz. Customer Service honors are based on several factors, including the number and quality of client reviews a professional received in 2017. Architecture and interior design photographers whose images were most popular are recognized with the Photography award. A "Best Of Houzz 2018" badge will appear on winners' profiles, as a sign of their commitment to excellence. These badges help homeowners identify popular and top-rated home professionals in every metro area on Houzz.
"I love my clients!" says Tim Tattersall, "I enjoy creating custom spaces that reflect their personality. When they walk in the door and can truly exhale, then I know I've done my job."
"The Houzz community selected a phenomenal group of Best of Houzz 2018 award winners, so this year's recipients should be very proud," said Liza Hausman, Vice President of Industry Marketing at Houzz. "Best of Houzz winners represent some of the most talented and customer-focused professionals in our industry, and we are extremely pleased to give them both this recognition and a platform on which to showcase their expertise."
Follow Tim Tattersall Design on Houzz https://www.houzz.com/pro/timtattersall/tim-tattersall-design
---
The Maui Magazine July/August 2017 issue published an article titled "A Perfect Fit" about a condo renovation I did in Kihei.
---
I was honored to have my home featured in the following piece in the Maui Magazine article "Pitch Perfect." It was truly a pleasure working with Maui Magazine.